At the massive Fred Hall sport fishing shows in Long Beach and San Diego this coming March, you'll see a dizzying array of saltwater fishing gear and tackle. From custom, hand-made rods to heavy metal jigs, to realistic, deep-diving plugs, these shows have the gear for just about any fishing adventure imaginable. One very important item for most California anglers and divers, no matter what kind of fish, lobster, clam, or crab they plan to chase, is a state sport fishing license.
Beyond the basic California sport fishing license (which comes in a variety of time periods: annual, one-day, two-day, or ten-day), what else do you need? Are you required to purchase an Ocean Enhancement Validation before you venture out to the Farallones? How about a Second Rod Validation, if you want to use two rods to jig for squid on a Monterey pier?
Here are some quick descriptions and clarifications of license items you may – or may not – need for fishing out on the blue Pacific:
Ocean Enhancement Validation
For Southern California saltwater fishing only. An Ocean Enhancement Validation is required only when fishing in ocean waters south of Point Arguello (Santa Barbara County). This validation is not required when fishing with a valid One- or Two-Day Sport Fishing License.
Second Rod Validation
Not required for saltwater fishing. The Second Rod Validation allows a person to fish with two rods or lines in inland waters. When fishing in the ocean, any number of poles may be used with a few exceptions:
When fishing for, or in possession of, rockfish, lingcod, greenlings, California scorpionfish, or cabezon, only one line with no more than two hooks may be used (California Code of Regulations Title 14 (CCR T-14), Section 28.65(c))
When fishing for, or in possession of, salmon north of Point Conception (Santa Barbara County), only one line may be used (CCR T-14, Section 28.65(e))
When fishing for sturgeon in ocean waters, only one line and one hook may be used (CCR T-14, Section 27.90(d))
When fishing for Pacific halibut, only one line with no more than two hooks may be used (CCR T-14, Section 28.20(d)(1))
North Coast Salmon Report Card
Not required for ocean salmon fishing. That's right – despite its name, this report card is not required for salmon fishing in ocean waters, including those off the northern California coast. This report card is only required for taking salmon in the Smith River System or Klamath-Trinity River System.
Other Report Cards
It's pretty easy to spot other saltwater fishing report cards you might need:
Going lobster fishing? Be sure to pick up your Spiny Lobster Report Card. It's good for the entire lobster season, and is required for all persons taking spiny lobster, regardless of age. As with all fishing report cards, remember to return it to CDFW by the deadline. Report card holders who fail to return their Spiny Lobster Report Card or report their harvest online by April 30 following the season closure will be assessed a $21.60 non-return fee when they purchase a spiny lobster report card for the following season.
Going sturgeon fishing in bay or ocean waters? Be sure to pick up your Sturgeon Fishing Report Card. This report card is required for any person taking white sturgeon, which can be found in both fresh and salt water (green sturgeon are protected, and may not be taken). Only one Sturgeon Fishing Report Card may be issued per person each year.
The red abalone fishery, which has required a report card, is closed until at least 2026. Abalone report cards are not currently available for purchase.
"Most" California anglers and divers need a sport fishing license? Who doesn't need one? If you are under the age of 16, no fishing license is required, but all applicable report cards must still be purchased. If you're fishing from a public fishing pier (see the definition of 'public fishing pier' in CCR T-14 Section 1.88), no sport fishing license is required. If you're hoop netting spiny lobster from a public fishing pier, however, you will still need a Spiny Lobster Report Card. Be sure to review the regulations that apply to fishing from a public fishing pier (see CCR T-14 Section 28.65(b)).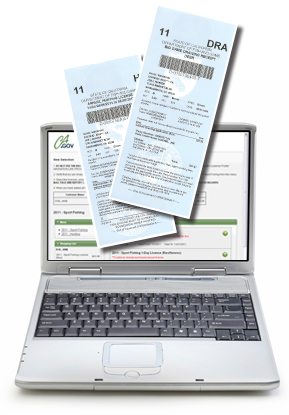 Descriptions of sport fishing licenses, validations, and report cards and saltwater sport fishing regulations are available on the CDFW website. Remember, sport fishing licenses etc. may be purchased at the CDFW booth during the upcoming Fred Hall sport fishing shows! You can also purchase licenses and report cards online, but remember to leave enough time for them to reach you in the mail, as they must be physically in your possession when you're fishing.
For more information,  talk to CDFW wardens and biologists at the shows, stop by your local CDFW office, or email your questions to the CDFW Marine Region or the CDFW License and Revenue Branch.
article updated May 2021
---
post by Mary Patyten, CDFW Research Writer